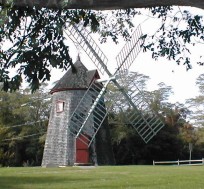 Gateway to the Cape Cod National Seashore. The Salt Pond Visitor's Center is the starting point of the National Seashore and contains information on Eastham's gorgeous walking trails. There are several excellent Bay and ocean beaches which have been popular for generations. Eastham has some larger hotels, some quaint B&B's and several kitschy and quaint cottage colonies. An interesting fact of Eastham's history is that it was essentially one giant asparagus patch until the 1920's. Now, it is known for its delicious turnips. This is indicative of Eastham's laid-back, rural flavor, which makes it a good choice for those seeking a low-key vacation in a beautiful town completely without pretensions.
History
Eastham (pop. 4,441) was first settled by the Pilgrims in 1644. Originally named Nawsett, it was incorporated on June 7, 1651. First Encounter Beach is where Myles Standish and company met up with the Nauset Indians in 1620. Although this was a relatively peaceful meeting, the Pilgrims still decided to go on their way and ended up in Plymouth.
Points of Interest
1869 Schoolhouse Museum, National Seashore Park, Salt Pond Visitor Center, White Cedar Swamp Walk, Fort Hill/Capt. Penniman House, Nauset Light, Coast Guard
Special Events
Windmill Weekend is an annual event held the weekend following Labor Day on Windmill Green. Events include road races, sand art competition, band concerts, arts & crafts, square dancing and a tricycle race. The weekend is concluded with a public recognition of citizens who have demonstrated excellent dedication to the town and a parade on Sunday developed around that year's theme.
Beaches
Coast Guard Beach: off 6A at the Salt Pond Visitor Center, follow Nauset Road and Doane Road
Campground Beach: off Route 6 on Mattapoisett Road
Cooks Brook: off Mattapoisett Road in North Eastham
First Encounter: off Route 6 at the end of Samoset Road
Nauset Light Beach: off Route 6, right onto Brackett Road and follow Cable Road to beach.
Area Links
Sorry we are experiencing system issues. Please try again.